Jose Mourinho comes up against Eden Hazard again on Sunday
Jose Mourinho went to extreme measures to nullify Eden Hazard in Manchester United's 2-0 win over Chelsea at Old Trafford last season. Can he stop him again in the same fixture on Super Sunday?
The last time Manchester United faced Chelsea at Old Trafford, Jose Mourinho knew it would take something special to stop Eden Hazard. It was April last season and the Belgian had been one of the Premier League's outstanding performers. Not only that, but in their most recent meetings he had shown his determination to get one over on his old boss.
First, there was Mourinho's humiliating return to Stamford Bridge in October, when Hazard ran riot, scoring Chelsea's third goal and inspiring their thumping 4-0 victory. Then, in March, there was the FA Cup quarter-final at the same venue, when Manchester United tried to unsettle Hazard with a string of fouls. Unperturbed, he starred again as Chelsea won 1-0.

Hazard was desperate to prove a point to the man who questioned his heart during their bitter fall-out in the previous season at Chelsea, and there was no doubt he succeeded. But when he travelled to Old Trafford for the third meeting between the two sides in the penultimate month of the campaign, Mourinho finally enjoyed the upper hand.


In hindsight, there were clues about how he would do it in the FA Cup game a month earlier, when Phil Jones was instructed to man-mark Hazard. Ander Herrera's first-half sending off wrecked Mourinho's plans on that occasion, but he had seen enough to adopt the same approach at Old Trafford. This time, however, Herrera was the man tasked with carrying it out.
The Spaniard set up Marcus Rashford's opening goal and scored the second himself that day at Old Trafford, but the defining aspect of his performance was how effectively he shackled Chelsea's danger man. Herrera followed Hazard everywhere, breathing down his neck and snapping at his heels whenever the ball came near him.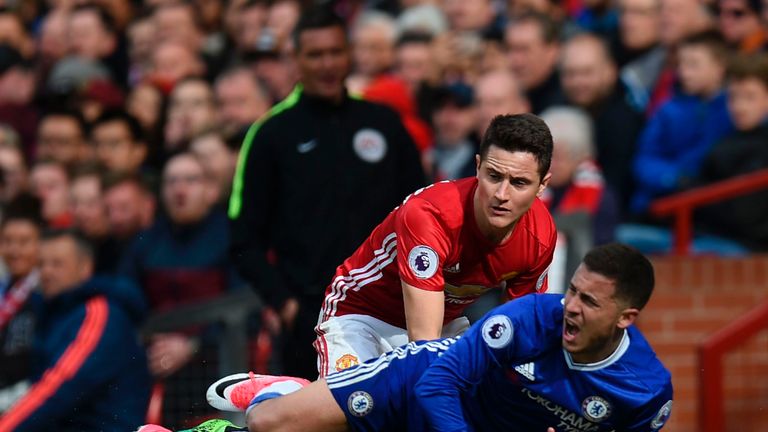 Hazard was stumped. It was the first game all season in which he did not touch the ball in the opposition box or attempt a single dribble. It was only the third game of the campaign in which he completed the 90 minutes without having a shot. With Hazard nullified, Chelsea did not muster a single attempt on target for the first Premier League game in a decade.
Hazard's muted showing was a jarring contrast from his previous two performances. The Belgian made six successful dribbles in the FA Cup game and completed 71 of his 72 passes. Under the close attention of Herrera at Old Trafford, however, he lost possession on 19 separate occasions.
The man-marking job was lauded as a Mourinho masterclass and 10 months on the circumstances demand more tactical ingenuity. Chelsea are no longer flying high in the Premier League and their results have dipped in the second half of the campaign, but Hazard is proving as effective as ever. In his last seven appearances, he has scored six goals and provided two assists - including the pass for Willian's opener against Barcelona.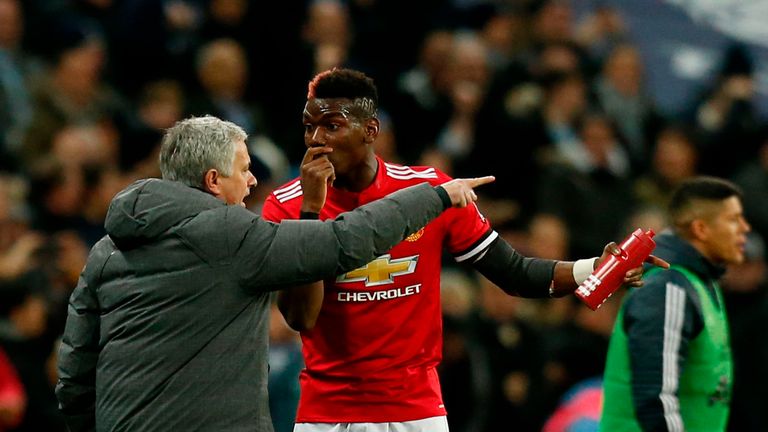 Mourinho is sure to consider adopting a similar approach this Sunday, but it is less clear who exactly will occupy his midfield positions. Herrera joined Marouane Fellaini in the treatment room on Wednesday evening against Sevilla, and with uncertainty surrounding Paul Pogba, Nemanja Matic looks like the only guaranteed starter.
It would have seemed ludicrous to question Pogba's place in the team earlier this season, but Mourinho has made no secret of his dissatisfaction with the Frenchman's recent performances. Pogba was dropped for the Premier League meeting with Huddersfield, hooked against Tottenham and Newcastle, and left on the bench again against Sevilla.
There were signs of greater defensive awareness following his first-half introduction in Spain, but at the moment Pogba seems to have fallen behind Scott McTominay in Mourinho's pecking order. And with Michael Carrick now 36 and Jones still doubtful with an injury, the academy graduate is the only obvious candidate for a man-marking role on Sunday.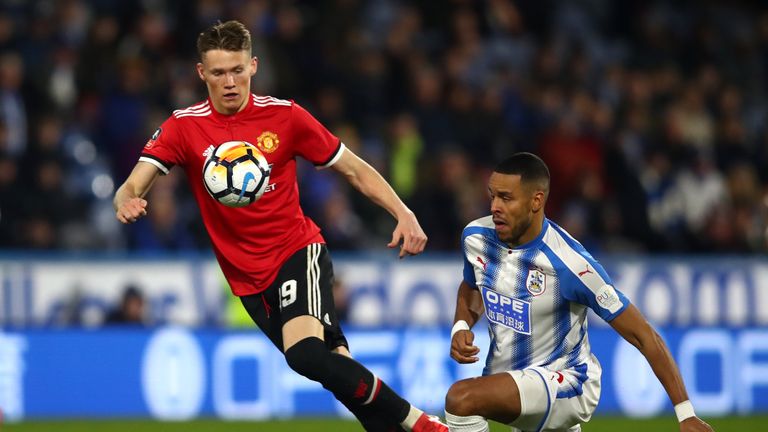 Mourinho was certainly happy with him at the Sanchez Pizjuan Stadium, describing his performance as "fantastic" and "brilliant" as he helped United keep a clean sheet. McTominay was impressively assured on only his ninth start for the club, and by shadowing Ever Banega, he also had good practice for what might be expected from him against Hazard.
But while he stuck to his task diligently, it would be wrong to suggest he smothered Banega in the same way Herrera did Hazard. In fact, the Argentine made nearly twice as many passes in the opposition half as any United player. Over the course of the 90 minutes, he created 10 chances - the most by any player in any Champions League game all season.
The stats give Mourinho plenty to ponder, and he will also be aware that the Belgian is likely to be better prepared to cope with the tactic this time around.
"Against Manchester United I thought he accepted things too easily, he made it easy for Herrera far too often," said Sky Sports pundit Gary Neville back in April. "Hazard fell short in his understanding of playing against the man-marker. He needed to play high and wide or high and through the middle - and next time he might."
That, coupled with the fact that Hazard is indeed playing further forwards this season, complicates matters for Mourinho. The Manchester United manager will be desperate to claim three points against his former club. But recent history suggests how he copes with Hazard will be decisive in whether he gets them.